Is Delta 8 THC legal in Mississippi?
NO, Delta 8 is not legal in Mississippi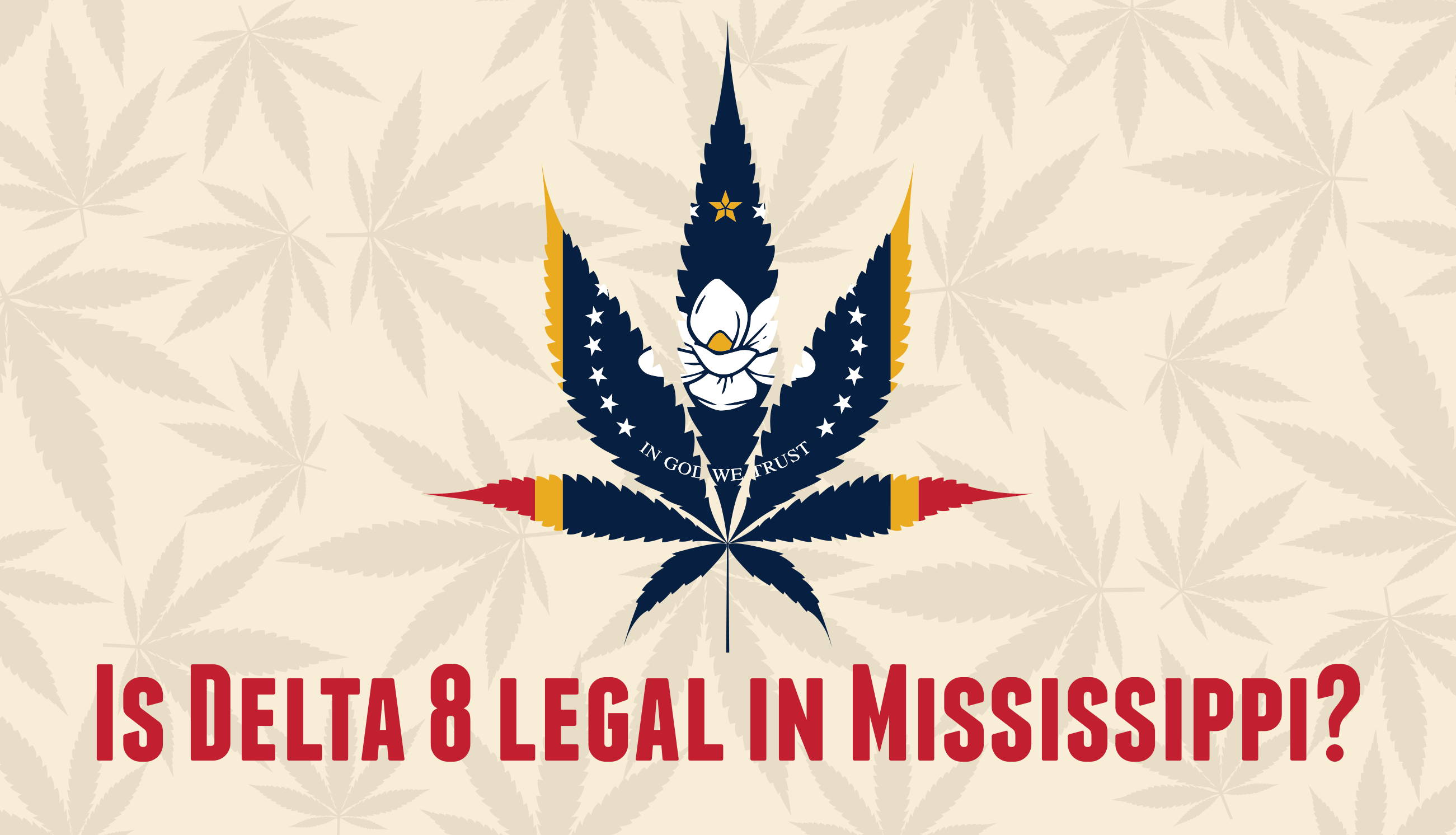 Read our legal disclaimer HERE. While we try to stay as up to date as possible on all state laws, you should do your own due diligence and work with a legal professional to ensure you are operating legally in your state or territory at all times.


SECTION 2. Definitions.
(d) "Delta-9-tetrahydrocannabinol" means the sum of the percentage by weight of tetrahydrocannabinol acid multiplied by eight hundred seventy-seven thousandths (0.877) plus the percentage by weight of delta-9-tetrahydrocannabinol.
(g) "Hemp" means the plant Cannabis sativa L. and any part of that plant, including the seeds thereof and all derivatives, extracts, cannabinoids, isomers, acids, salts, and salts of isomers, whether growing or not, with a delta-9-tetrahydrocannabinol (THC) concentration of not more than three-tenths percent (0.3%) on a dry weight basis that is grown or processed under Sections 1 through 11 of this act.
SECTION 13. Section 41-29-113, Mississippi Code of 1972, is amended as follows:
41-29-113.
SCHEDULE I
(d) Hallucinogenic substances. Unless specifically excepted or unless listed in another schedule, any material, compound, mixture or preparation which contains any quantity of the following substances, their salts, isomers (whether optical, positional, or geometric) and salts of isomers, whenever the existence of these salts, isomers and salts of isomers is possible within the specific chemical designation:
(23) (A) Marijuana (Hemp, as defined and regulated under Sections 1 through 11 of this act and Cannabidiol contained in a legend drug product approved by the Federal Food and Drug Administration or obtained under Section 41-29-136 * * *, are exempt under Schedule I);
(31) Tetrahydrocannabinols, meaning tetrahydrocannabinols contained in a plant of the genus Cannabis (cannabis plant), as well as the synthetic equivalents of the substances contained in the cannabis plant, or in the resinous extractives of such plant, and/or synthetic substances, derivatives, and their isomers with similar chemical structure and pharmacological activity to those substances contained in the plant such as the following:
(A) 1 cis or trans tetrahydrocannabinol;
(B) 6 cis or trans tetrahydrocannabinol;
(C) 3,4 cis or trans tetrahydrocannabinol.
(Since nomenclature of these substances is not internationally standardized, compounds of these structures, regardless of atomic positions, are covered.)
("Tetrahydrocannabinols" excludes dronabinol and nabilone.)
For purposes of this paragraph, tetrahydrocannabinols do not include hemp or hemp products regulated under Sections 1 through 11 of this act.
Legal document found HERE
Is Delta 9 legal in Mississippi?
Yes, Delta 9 is legal in Mississippi

Is HHC legal in Mississippi?
NO, HHC is not legal in Mississippi
Delta 8 THC laws by State