Is Delta 8 THC legal in Illinois?
Yes, Delta 8 is legal in Illinois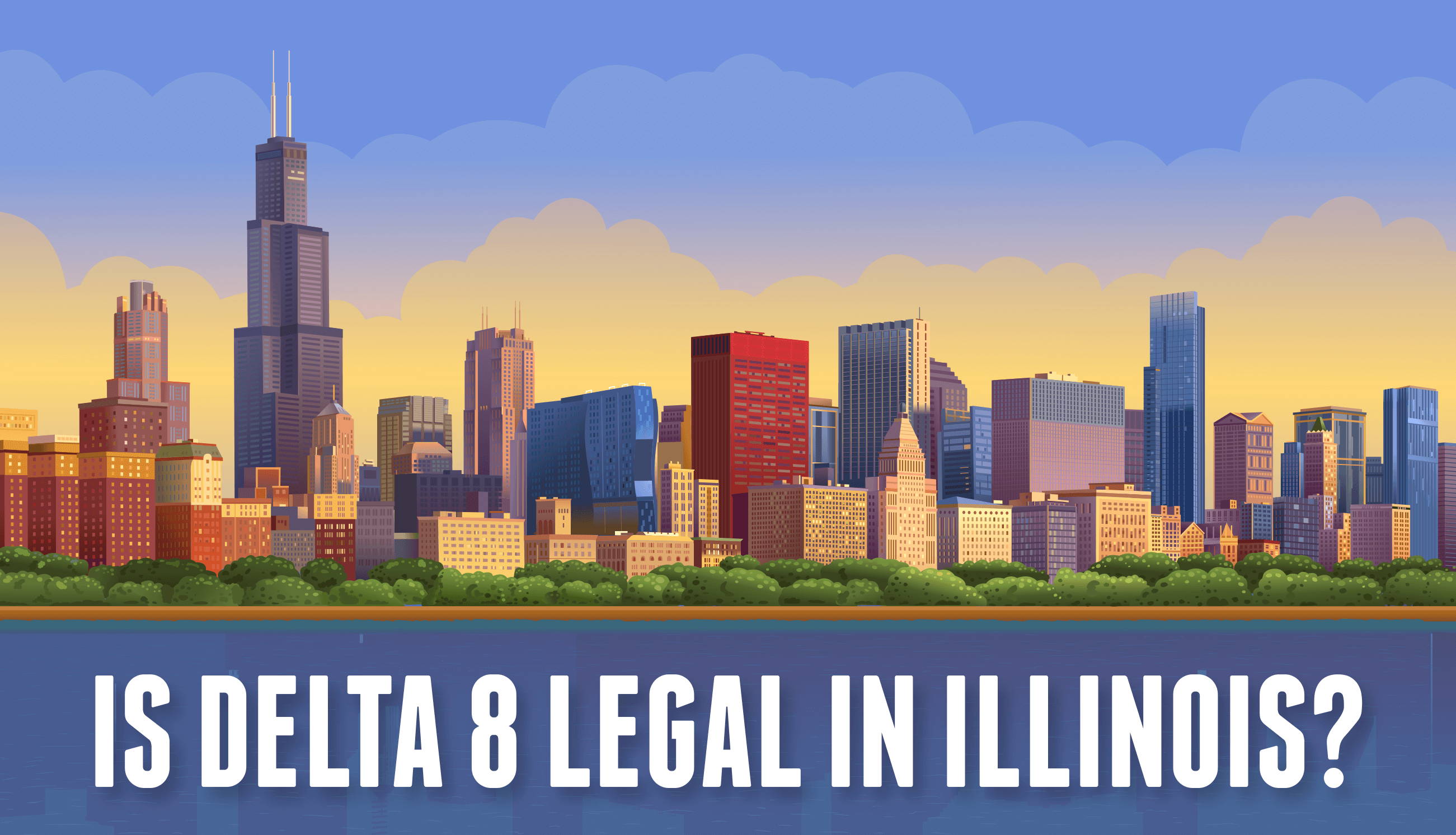 Delta 8 THC is legal, according to Illinois state law. This includes delta 8 gummies, delta 8 carts, delta 8 oil, delta 8 flower, and delta 8 distillate.


Like federal law, Illinois specifically legalized all derivates, cannabinoids, and hemp isomers,
including all THC other than delta 9 THC.
Read our legal disclaimer HERE. While we try to stay as up to date as possible on all state laws, you should do your own due diligence and work with a legal professional to ensure you are operating legally in your state or territory at all times.
Don't Miss Our Daily Discounts
(505 ILCS 89/5)
"Industrial Hemp" means the plant Cannabis sativa L. and any part of that plant, whether growing or not, with a delta-9 tetrahydrocannabinol (THC) concentration of not more than 0.3% on a dry weight basis that has been cultivated under a license issued under the Act or is otherwise lawfully present in this State, and includes any intermediate or finished product made or derived from industrial hemp.
"THC" means delta-9 tetrahydrocannabinol.
(505 ILCS 89/20)
Sec. 20. Hemp products. Nothing in this Act shall alter the legality of hemp or hemp products that are presently legal to possess or own.
(505 ILCS 89/25)
Sec. 25. Violation of federal law. Nothing in this Act shall be construed to authorize any person to violate federal rules, regulations, or laws. If any part of this Act conflicts with a provision of the federal laws regarding industrial hemp, the federal provisions shall control to the extent of the conflict.
(Source: P.A. 100-1091, eff. 8-26-18.)
Legal document found HERE
SECTION 905. THE CANNABIS CONTROL ACT IS AMENDED BY CHANGING SECTIONS 3 AND 8 AS FOLLOWS:
(720 ILCS 550/3) (from Ch. 56 1/2, par. 703)
Sec. 3. As used in this Act, unless the context otherwise requires:
(a) "Cannabis" includes marihuana, hashish and other substances which are identified as including any parts of the plant Cannabis Sativa, whether growing or not; the seeds thereof, the resin extracted from any part of such plant; and any compound, manufacture, salt, derivative, mixture, or preparation of such plant, its seeds, or resin, including tetrahydrocannabinol (THC) and all other cannabinol derivatives, including its naturally occurring or synthetically produced ingredients, whether produced directly or indirectly by extraction, or independently by means of chemical synthesis or by a combination of extraction and chemical synthesis; but shall not include the mature stalks of such plant, fiber produced from such stalks, oil or cake made from the seeds of such plant, any other compound, manufacture, salt, derivative, mixture, or preparation of such mature stalks (except the resin extracted therefrom), fiber, oil or cake, or the sterilized seed of such plant which is incapable of germination. "Cannabis" does not include industrial hemp as defined and authorized under the Industrial Hemp Act.
Legal document found HERE
Is HHC legal in Illinois?
Yes, HHC is legal in Illinois
Delta 8 THC laws by State