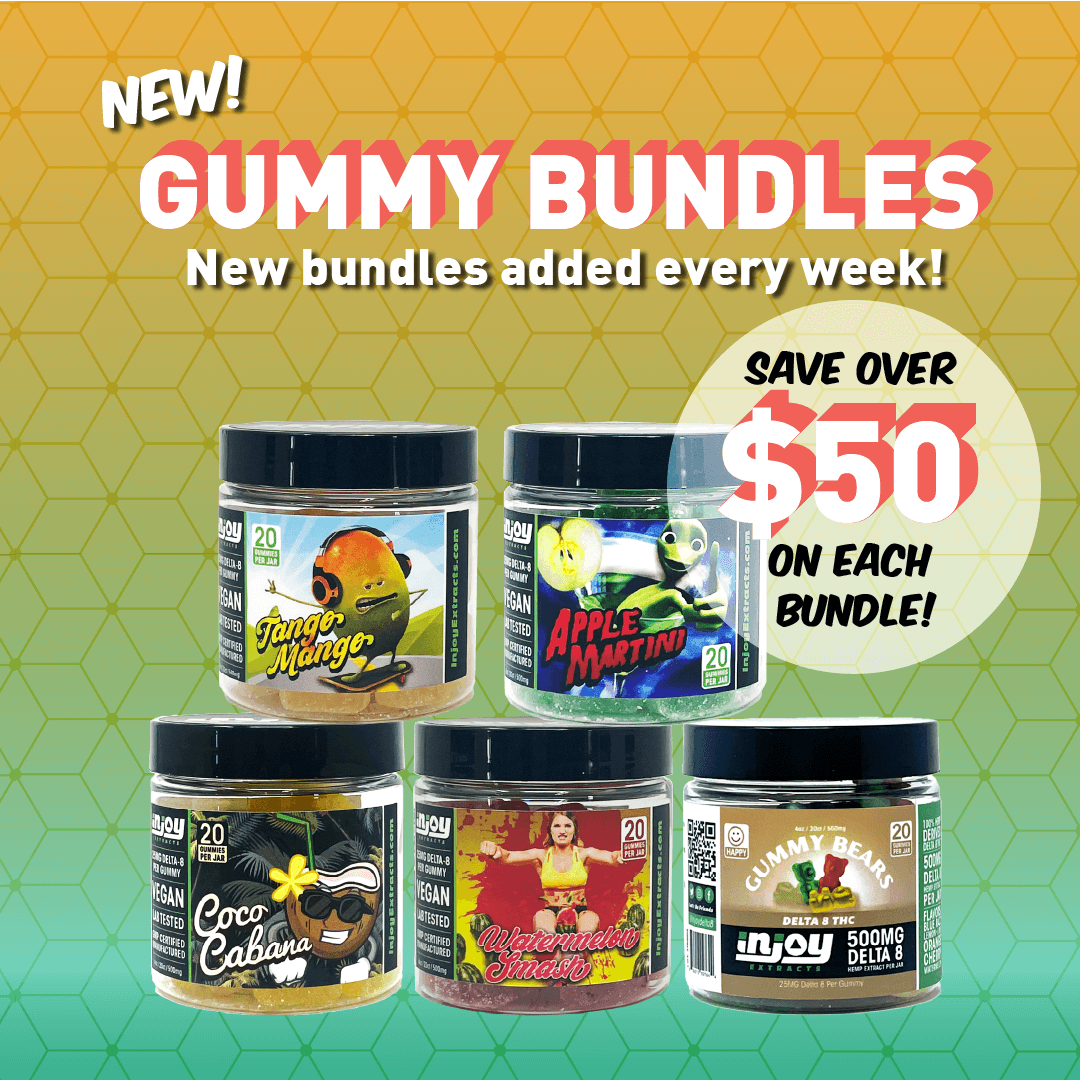 What are Injoy Extracts best Delta 8 bundle deals
Injoy Extracts best delta 8 bundle deals
Injoy Extracts has the best Delta 8 bundle deals in the market. If you frequently use Delta 8 carts, you can purchase them from this website for only $12.00 each. They are sold in packs of 10 and are an Injoy Extracts best seller.
Does Injoy Extracts have other delta 8 deals besides delta 8 carts?
If you like delta 8 gummies, Injoy Extracts has great gummies delta 8 bundle deals. We offer 5 jars of delta 8 THC gummies for only $95.00; that's $50.00 off the regular price, a savings of almost 40%.

Does Injoy Extracts have disposable carts in their online bundle deals?
Injoy Extracts does have disposable carts included in their bundle deals. We currently have HHC disposable carts, and we will be carrying a delta 8 disposable cart soon as well. Now, on the website, the 2-gram HHC disposable cart strains are strawberry cough and granddaddy purple; they are sold in packs of six for only $150.00 or $25.00 each (all disposable HHC carts on the website contain 2 grams of HHC distillate if you are looking to purchase raw HHC distillate follow the provided link: HHC Distillate); the average price for HHC disposable carts of this size is anywhere from $44.99 to $60.00; if you are a frequent user of HHC disposable carts this an excellent value for you.

Does Injoy Extracts have delta 8 prerolls included with their bundle deals?
Injoy Extracts does have delta 8 prerolls included in their bundle deals. Currently you can purchase 10 delta 8 prerolls for only $70.00, thats a savings of $20-30.00, depending on where you currently are purchasing your delta 8 THC preroll.
What delta 8 strain is used for the delta 8 preroll bundle deal?
Injoy Extracts uses only the best delta 8 strains for its delta 8 prerolls. below you will find the current strains and a description of each one pointing out the delta 8 strain flavor, smell, effects and more.
Injoy Extracts delta 8 strain guide for pre-rolls.
Green Crack delta 8 strain is a potent Sativa strain known for its energizing effects. But don't let the name fool you: this is pure cannabis. Few delta 8 strains compare to Green Crack's intense energy and focus as it induces an invigorating mental buzz that keeps you going throughout the day. Green Crack is a strong daytime strain that may help consumers fight fatigue, stress, and depression with a tangy, fruity flavor redolent of mango. Because the name "Green Crack" perpetuates a negative image of cannabis, some people have called this strain Cush (with a 'C') or Green Cush instead.
Delta 8 strain Mango Kush is bursting with such a sweet and fruity aroma that you'll feel you're on vacation on a beautiful island. Mango Kush is said to make its users feel uplifted and peaceful, perfect for unwinding after work and letting the stress of the day seep out of your pores. Many people who suffer from depression, mild painful disorders, insomnia, or chronic anxiety have said the delta 8 strain Mango Kush provides relief from their ailments.
The hybrid delta 8 strain Runtz has a refreshing fruity mango taste like a cross between Gelato and Zkittlez; this flavor is said to come from the Myrcene levels. Runtz is great for after-work evening relaxation. Calming the body and the mind is what users of this delta 8 strain say it does best, so if you want to be productive after work, you might not want to use this particular strain, save this one for when you want to spend some quality time on your couch.
Suppose you are looking for a Sativa-dominant hybrid delta 8 strain, then Blue Dream is what you want. This sought-after and arguably one of the best delta 8 strains in the market is produced by crossing Haze with Blueberry. Full-body relaxation and calming and euphoric effects are what users say they feel from this delta 8 strain and most talked about among users is its flavor of sweet berries.
Our Watermelon Zkittlez Premium Delta 8 THC is second to none. This Indica dominant blend tastes as good as it sounds. With a mouthwatering fruity aroma, it will be hard to put down. Its effects may set quickly, accompanied by a robust head rush and only relaxing vibes. Watermelon Zkittlez is best used at the end of a long hard day.
A Sativa-leaning hybrid, the result of the crossing of the Hawaiian and Trainwreck strains. Coming from the Hawaiian lineage, it's no wonder this strain is touted for its delicious pineapple flavor. There are also some notes of apple and tangerine mixed in as well, so it makes for an ultra fruity and juicy strain.
Flavor - Berry, Citrus, Lavender, Sweet, Woody
Blend - Indica Dominant Hybrid
Effects - Creative, Euphoria, Focus, Happy, Relaxing
Flavor - Sweet berry-like flavor with a touch of creaminess
Blend - Sativa Dominant Hybrid
Effects - Relaxing, Uplifting
Flavor - Cedar with mango and passionfruit tones
Blend - Sativa Dominant Hybrid
Effects - Relaxing, Uplifting
For those who don't like any flavor in their delta 8 prerolls, Natural is the way to go.
What is the best delta 8 strain?
With so many strains in the market, it's hard to nail down what is the best delta 8 strain. Injoy Extracts tries to carry as many top-rated strains as possible and always stays on top of all the new cannabis delta 8 strains.